Computer science professor selected as Emerging Woman Leader in Technical Computing
Computer science professor selected as Emerging Woman Leader in Technical Computing
August 19, 2019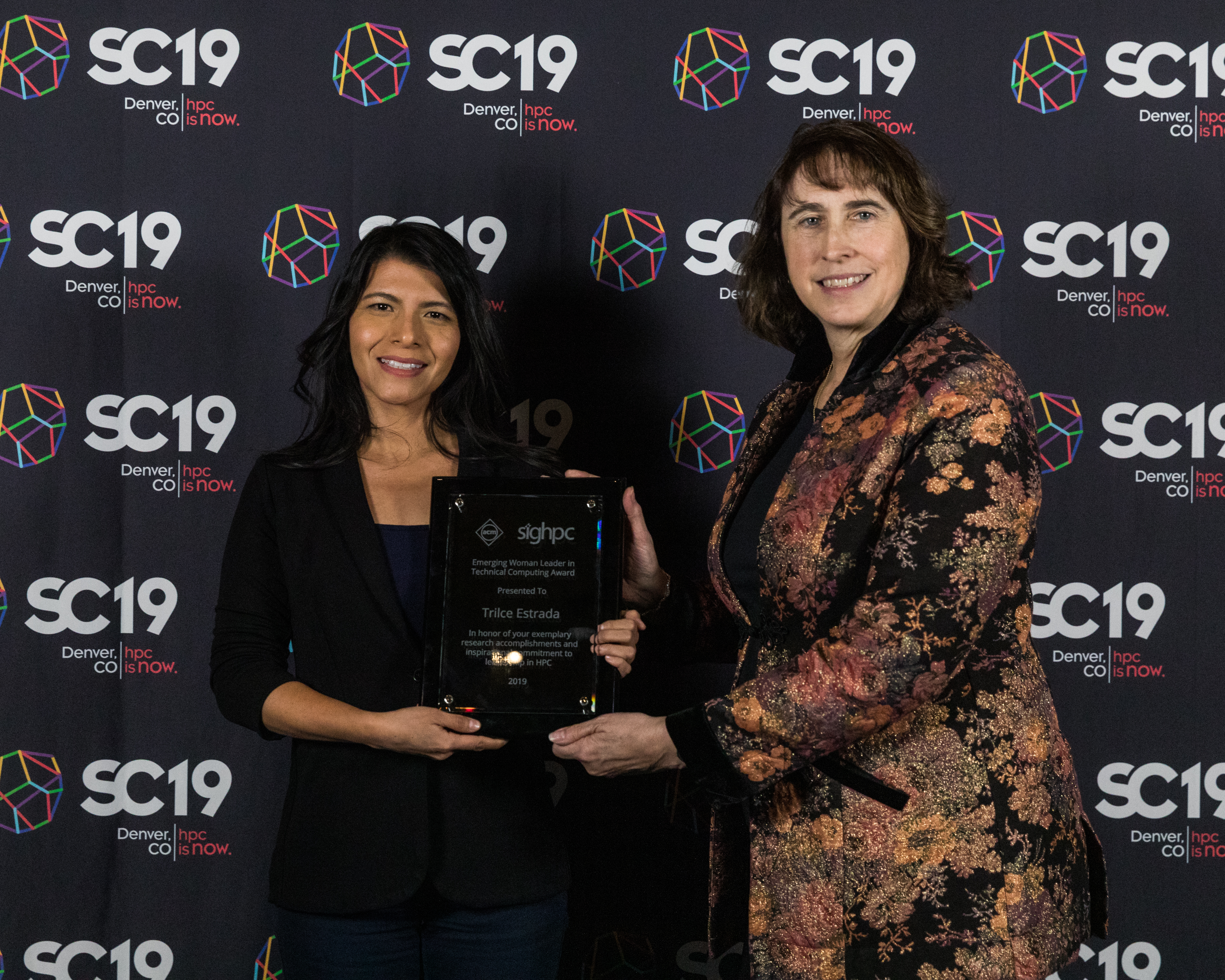 Trilce Estrada, PhD (left), receiving her 2019 SIGHPC Emerging Woman Leader in Technical Computing Award.
Trilce Estrada, an associate professor at The University of New Mexico Department of Computer Science, has been selected as the 2019 SIGHPC Emerging Woman Leader in Technical Computing Award winner.
Dr. Estrada's research focuses on designing scalable machine learning techniques that can be applied to data-intensive scientific problems, using distributed systems, mobile devices and crowd sourcing for distributed learning in science and medicine, and introducing automatic decision-making processes to distributed computing environments. She is recognized "for her innovative and transformative deployment of machine learning for knowledge discovery in molecular dynamic simulations and in situ analytics."
The award is presented every two years, to a woman in high-performance computing (HPC), in recognition of impact on technical computing as indicated by early career achievements, and her commitment to growing our community through service and mentorship. "Technical computing" includes various fields that are part of what is considered high-performance computing, such as visualization, analytics, operations, scientific application software (creation and porting/tuning), libraries and more, according to the SIGHPC website. The award will be presented at the annual SC19 conference, the HPC community's most prestigious annual gathering, held this year in Denver, CO. ACM SIGHPC stands for the Association for Computing Machinery's Special Interest Group on High Performance Computing.
Dr. Estrada is also the recipient of a National Science Foundation CAREER Award in 2015 for "Enabling Distributed and In-Situ Analysis for Multidimensional Structured Data."